Setting Amazon shipping rules
Shipping settings are found under the FBA or Merchant Fulfilled column group, which is shown collapsed by default to save on screen space.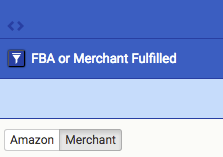 Click the <> icon to expand the column group.

FBA or Merchant Fulfilled
Select whether the product will be fulfilled by you (Merchant) or if Amazon is warehousing and fulfilling the product - Fulfilment by Amazon (FBA)
Shipping Group
Not relevant for FBA. For merchant fulfilled, select the Shipping Group defined within Amazon Seller Central to apply to this product.
Dispatch Time
Not relevant for FBA. The number of days after receipt of an order that the product will be dispatched.