How to list on eBay
List on eBay with just a few clicks
The images below are from Magento but the same concepts apply to WooCommerce, Shopify, BigCommerce and Ecwid ecommerce platforms.
1) Choose your products to configure and list
You can quickly and easily use filters to choose products you wish to perform an action on: In this example, the Name column is highlighted, but you may filter by any column with the filter icon (Pictured below)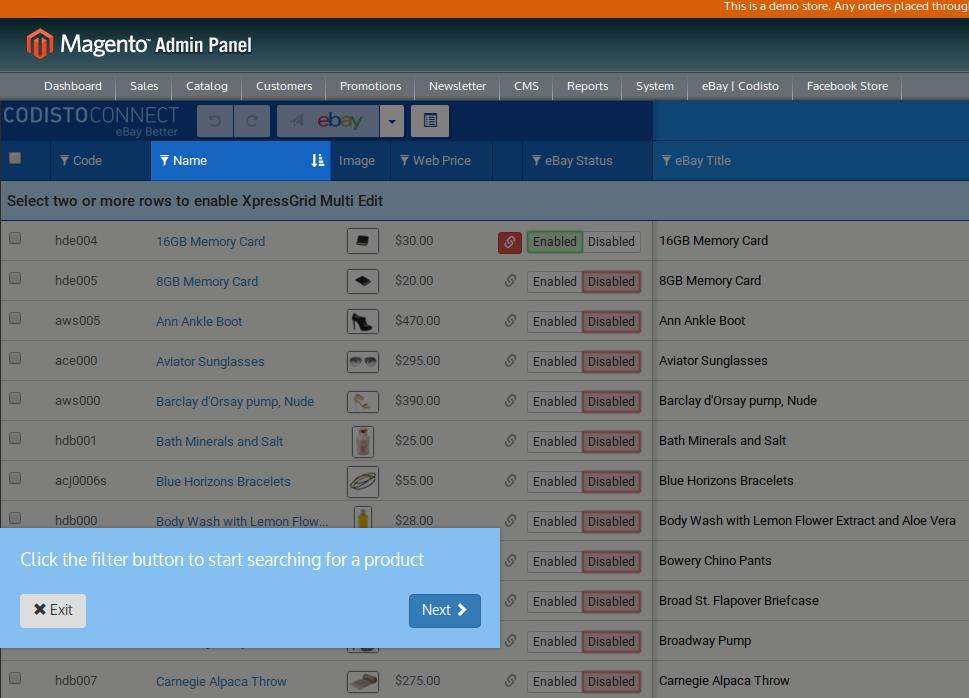 Now edit the filter that you would like to apply. You can type a filter term (Compact keyword was entered in this example).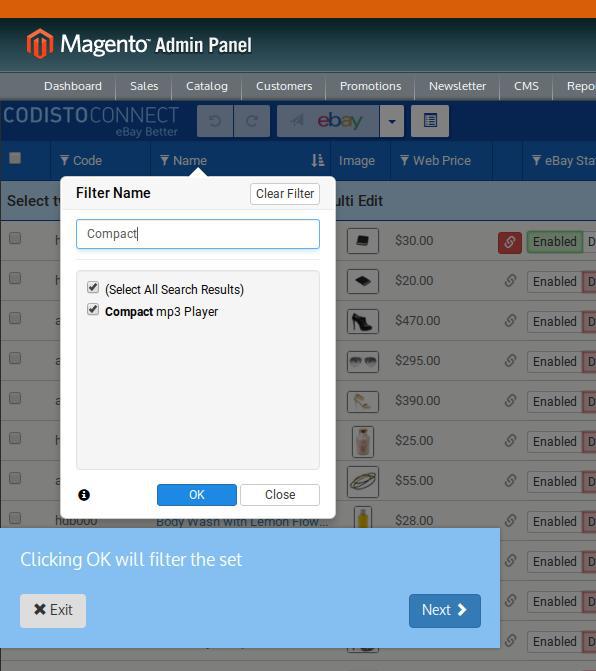 You may also select from options presented if there are more than one possible result to filter by (In the example below there are multiple products matching the 'Co' filter in the Name column).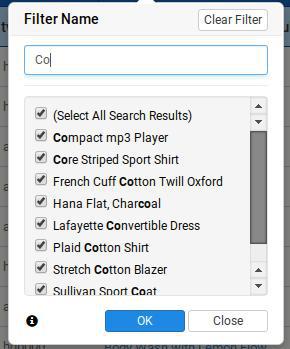 2) Bulk editing products
You will now see a list of filtered products on the screen matching the filter term.  To bulk edit these products click the tick box at the top of the grid on the left (hi-lighted in blue)

Once you have activated bulk edit mode (by clicking the select all tick box at the top or selecting more than 1 row) you will see the green Bulk Edit row appear (shown below). In the interactive demonstration, it greys out other fields and makes it clear to see the Enabled/Disabled buttons which are used to determine if the eBay Listings should be published for these products. Outside of the demonstration, you can edit other columns in the Bulk Edit header row - such as modifying eBay price rules for all selected products.

Click the "Enabled" button.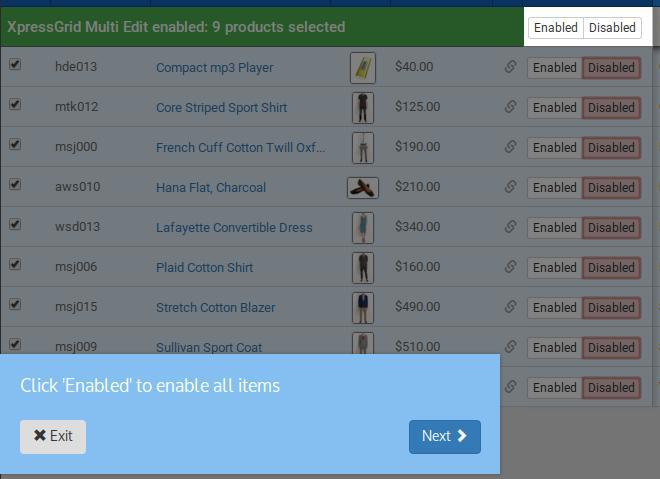 You will see a hint that selecting Disabled will end any items currently listed on eBay.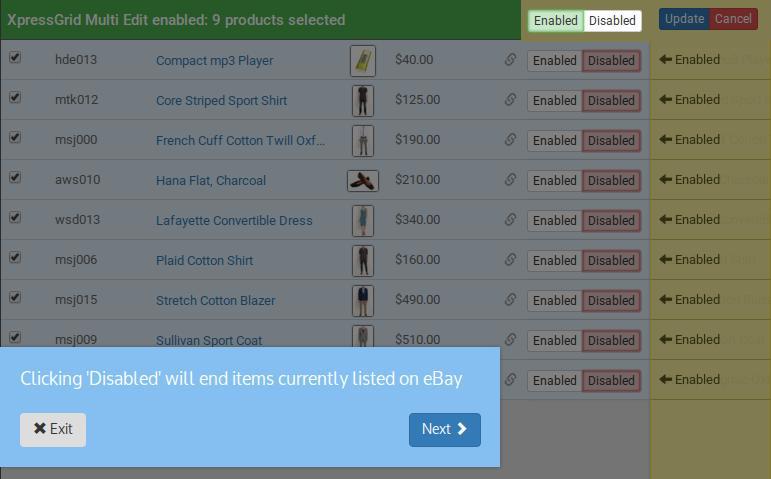 Now that you have selected the bulk action of  enabling eBay listings for the filtered products, you can confirm what the results of the action will be by checking the bulk action Preview.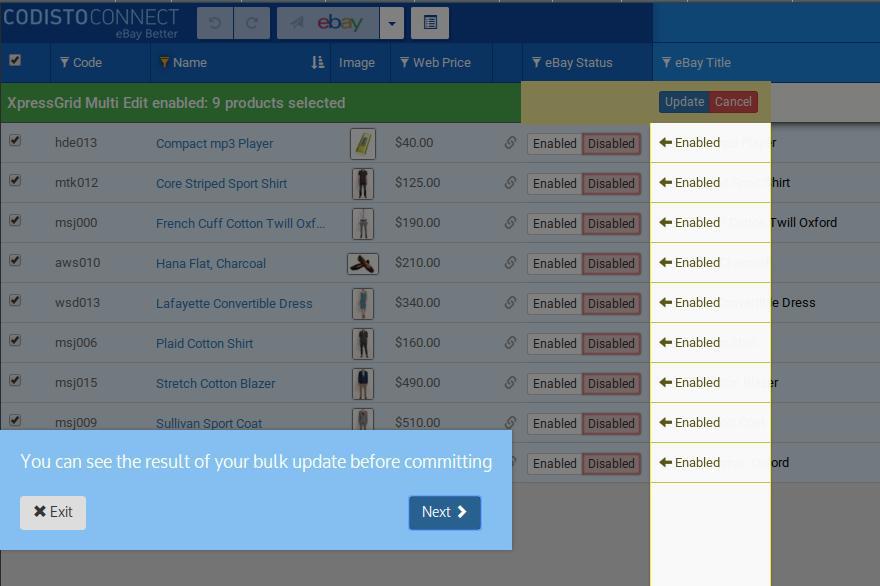 Click update to confirm that you are ready to enable the selected products.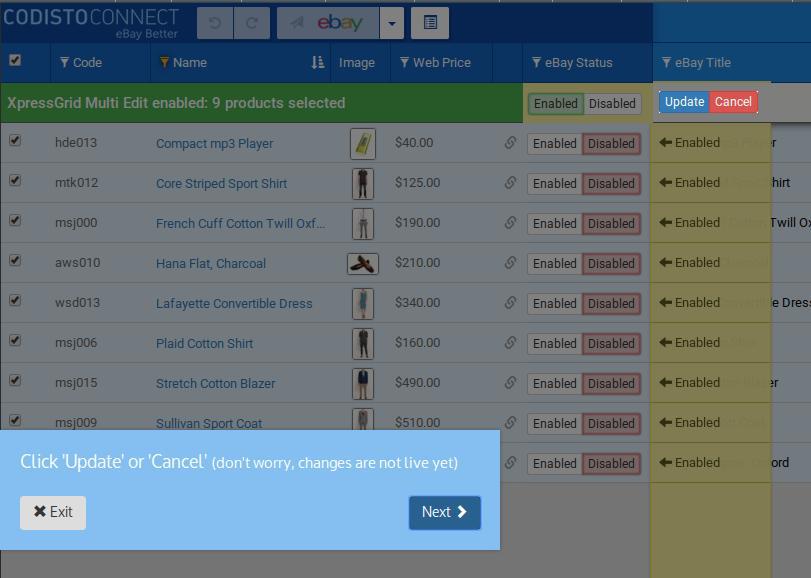 To send the changes to eBay (listing the enabled products) click the eBay button.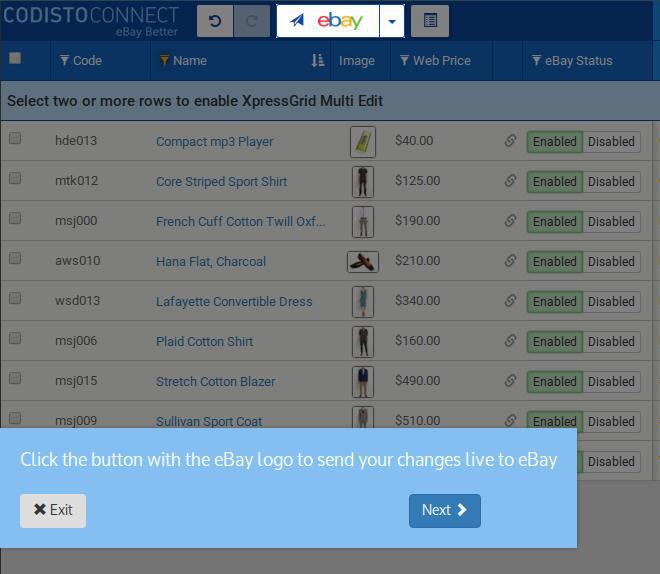 While the listings are being created on eBay you will notice a flashing blue icon next to the Enabled column (see below). This indicates that the Listing is currently being created.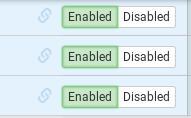 When the listing process has completed you will see a blue icon if it was successful (see below) or a red icon indicating error conditions.  If you click the blue icon it will take you directly to your eBay listing. Clicking the red icon will present you with errors that eBay has returned (such as PayPal account not connected).

Congratulations you have now created listings in 2 simple steps!
If you would like to preview your listings before they are created click the Preview button on the right of the grid.

You will be presented with an example Listing as it would appear on eBay. To change between different device previews click the buttons up the top right of the preview window. For Template Editing tips please click the link in the bottom of the Template preview or see  here