'
Listing on eBay
In this article we will explore the process of listing on eBay using the Multi-edit Mode featuring the Codisto XpressGrid™. You can learn more about the other listing modes available for Amazon by visiting the help articles for Single-edit Mode and Attribute Mapping Mode.
1. Check eBay settings in right hand columns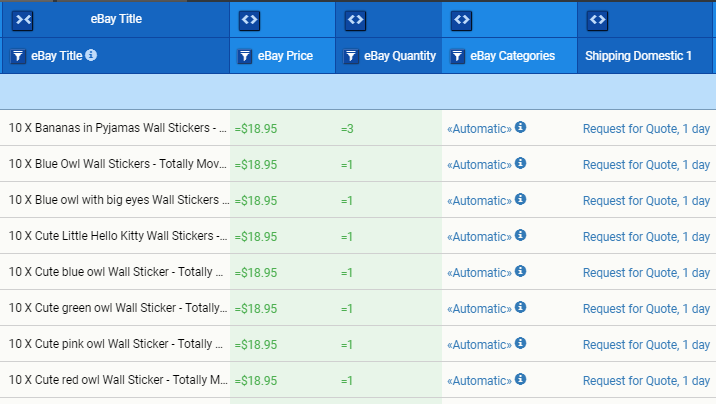 Make any adjustments from the default values set or add additional configuration. By default Codisto uses your product name and description from your ecommerce platform as eBay Title and Description but you can set different values
Remember any changes can easily be made in bulk (if necessary to a search & filtered group of products)
The column groups can be expanded/collapsed using the

button at the top of the column groups. They reveal additional settings for that group. Further settings can be found in the

button.
2. Choose products to list and 'enable'

Then 'save and send' to eBay

Remember any changes can easily be done in bulk (if necessary to a search & filtered group of products)
3. Check Listing Status
While the listings are being created on eBay you will notice a flashing blue icon next to the Enabled column (see below). This indicates that the Listing is currently being created.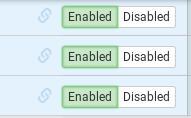 When the listing process has completed you will see a blue icon if it was successful (see below) or a red icon indicating error conditions. If you click the blue icon it will take you directly to your eBay listing. Clicking the red icon will present you with errors that eBay has returned (such as PayPal account not connected).

To learn more about listing on eBay you can watch the tutorial video.
<< See all Channel Cloud articles