'
Setting Shipping Rules for Sales Channel Listings
eBay Shipping (Amazon below)
Collapsed View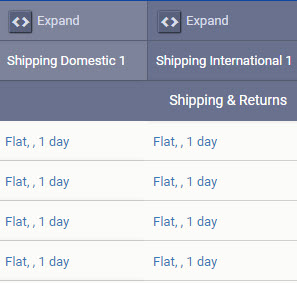 When the Shipping columns are collapsed (the default), a summary of the shipping settings is shown. Clicking on the value or the <> icon in the header row will expand the Shipping columns.
Expanded View

By default only 1 domestic and 1 international shipping option is displayed to avoid unnecessary columns being shown in the grid. However, Codisto supports all that eBay supports (4 Domestic and 5 International options).
To add more: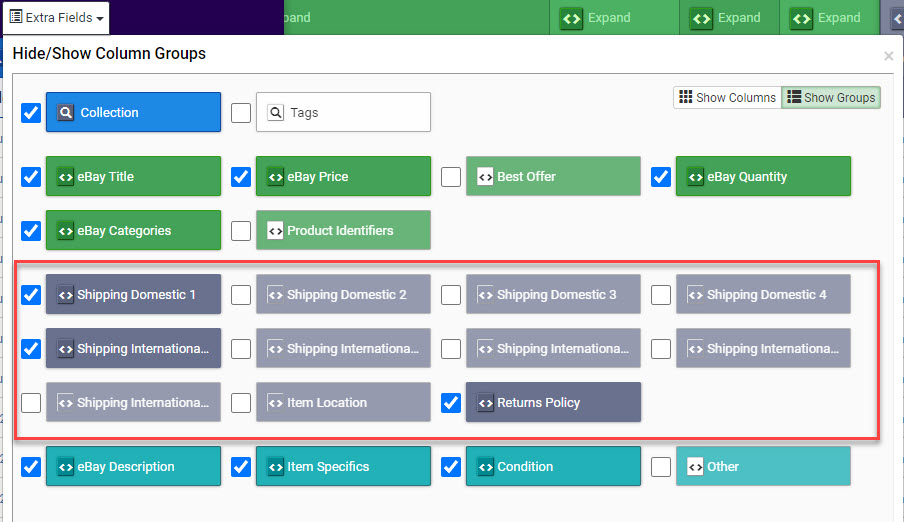 Cost Type
Flat
When Flat is selected (the default), the item will be listed with flat rate shipping as defined in the Cost field.
Calculated (eBay)
This method uses the postage rates available on eBay. No shipping widget is displayed on the listing because the shipping calculation happens on eBay.
Service
If Flat or Calculated (eBay) is selected for the Cost Type, the Service column specifies the service by which the item will be sent. The list of services for Calculated (eBay) will typically be shorter than the list of services for Flat, because not all services are dynamically calculated on eBay. If Calculated (Magento / WooCommerce) are selected, the Service field will be set to N/A as it is not applicable.
Cost
If Flat Cost Type is selected, the Cost column specifies the shipping cost for the first item.
Additional
If Flat Cost Type is selected, the Additional column specifies the shipping cost for each additional item (from the same listing).
Handling Time
Number of days between receipt of order and despatch. This value is factored into the estimated delivery date range displayed on eBay.
Amazon Shipping
The columns available to you in the grid vary depending on the type of shipping settings that have been set on your Amazon account.

Depending on whether you are on the new or old amazon shipping templates, you will see one of two sets of columns: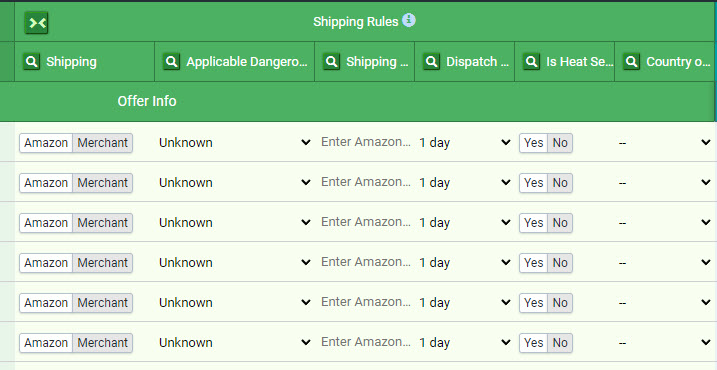 The shipping prices themselves will need to be set up on Amazon for each of the Shipping Groups (new) or each individual shipping type (old).

<< See all Channel Cloud articles