'
Switching over from the eBay native app to the Codisto Omnichannel app
As a Shopify merchant with the Shopify eBay Channel currently installed, you may have recently experienced technical issues with your eBay sales channel and been advised by eBay that they will be discontinuing their Shopify app after 31st December 2022
We've been working closely with eBay to ensure that Codisto offers all the functionality and features that Shopify merchants need to succeed on eBay. The Codisto omnichannel app is a powerful tool that allows several integration features with supported sales channels so you can manage listings, fulfill orders, and synchronize inventory from your online store dashboard.
In addition to integrating with eBay, Codisto also allows you to integrate your existing accounts with Amazon, Walmart (US), Kogan, and Google Merchant Center.
Important things to note / Common Concerns
1. Ensure that your eBay listings and store are well-intact as you uninstall (or cease to use) the eBay native app.
Treat it as though you're preparing to manage everything directly on eBay.
2. If you're not ready to let go of the eBay native app just yet, make sure you're fully aware of which app manages which functions or listings.

Codisto can work alongside the eBay native app, but make sure to be aware of which functions or listings are being managed by which app and how each one behaves towards your eBay account to avoid confusion.
For instance, both apps may import the same eBay order, which may appear on your Shopify Orders as having been duplicated. eBay Listings being managed by both apps may contain conflicting information, and both are sent one after the other causing unnecessary and confusing revisions on your listings.
In such cases, Codisto would continue to function on its own and be unable to detect outright if another app is acting on what it is responsible for.
If you are unsure of these processes please reach out to support@codisto before you uninstall the eBay native app.
For anything else, you may get in touch with our 24/7 Chat Support by clicking on the "Support" button that appears on the lower-right portion while browsing through our support articles or the app, or by sending an email to support@codisto.com.
Migrating to Codisto
We've made the process of moving from the Shopify ebay Channel to Codisto simple by following these easy steps:
#1 Install the Codisto app and connect your eBay account
You can install Codisto directly from the Shopify App Store with this link.
Once installed, open the Codisto app and click on "Connect eBay".

Note: Ensure you are logging into the correct eBay account before connecting Codisto and providing access to manage your eBay account.
#2 Configure your catalog in Codisto according to your eBay-specific channel strategy
It is recommended that sellers configure their channel settings prior to linking or listing new products from Codisto. This ensures your catalog is configured the way you want it before uninstalling the Shopify eBay channel.
Set your eBay default settings, to ensure your basic channel settings are up-to-date e.g. price rules, business policies, and order sync settings
Single-edit and multi-edit listing management modes are available to create new eBay listings
Attribute mapping mode enables you to consolidate eBay catalog management by leveraging your existing Shopify catalog data when creating eBay listings
#3 Link your existing eBay listings
The eBay listings you were previously managing with the Shopify eBay Channel will need to be linked to Codisto in order to take over management of the listing and retain sales history.
Codisto will use your product titles and SKU codes to automatically match your eBay products to their corresponding products in Shopify. To review, edit and approve your matches, click on the "link existing eBay listings" button from the Codisto home screen, or from settings.
You will be taken to the Settings View where you can review, edit and approve your matches.
If Codisto has been able to automatically match your products on eBay to your Shopify products, you can review and approve these "Ready to Link" or "Close Match" products to link them.
If you have listings on eBay that were unable to be matched by SKU or product identifier ("No Match"), you can manually link these products by searching for them on your Shopify catalog.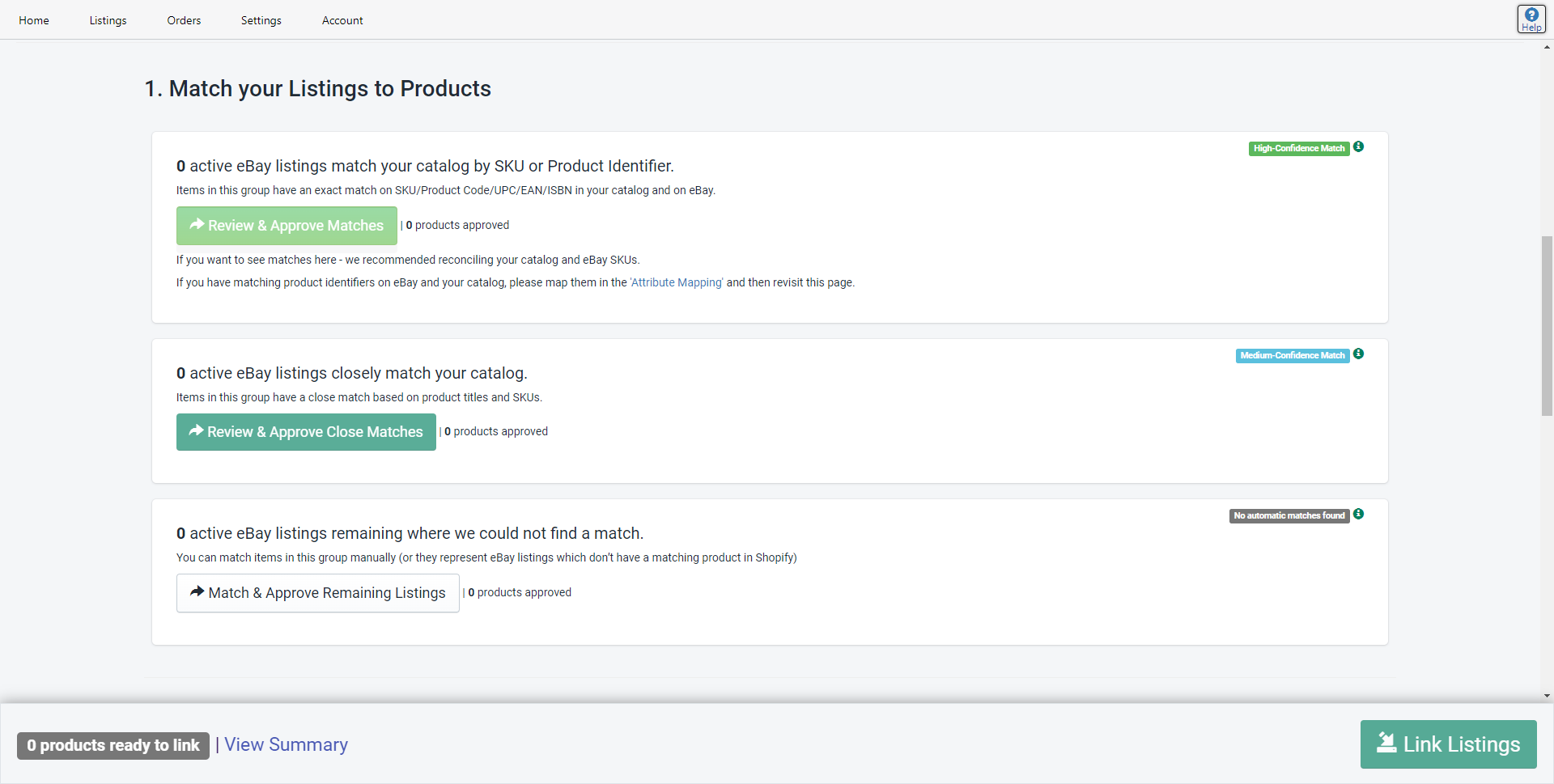 Once you've approved your matches, you'll be presented with a screen providing the ability to choose which elements of your eBay listings you would like to adopt Codisto settings for, and which elements you would prefer to keep the current eBay settings for.
Note: Codisto recommends adopting Codisto settings in order to manage all aspects of your eBay catalog natively from Shopify. Be sure to configure Codisto correctly before linking your listings.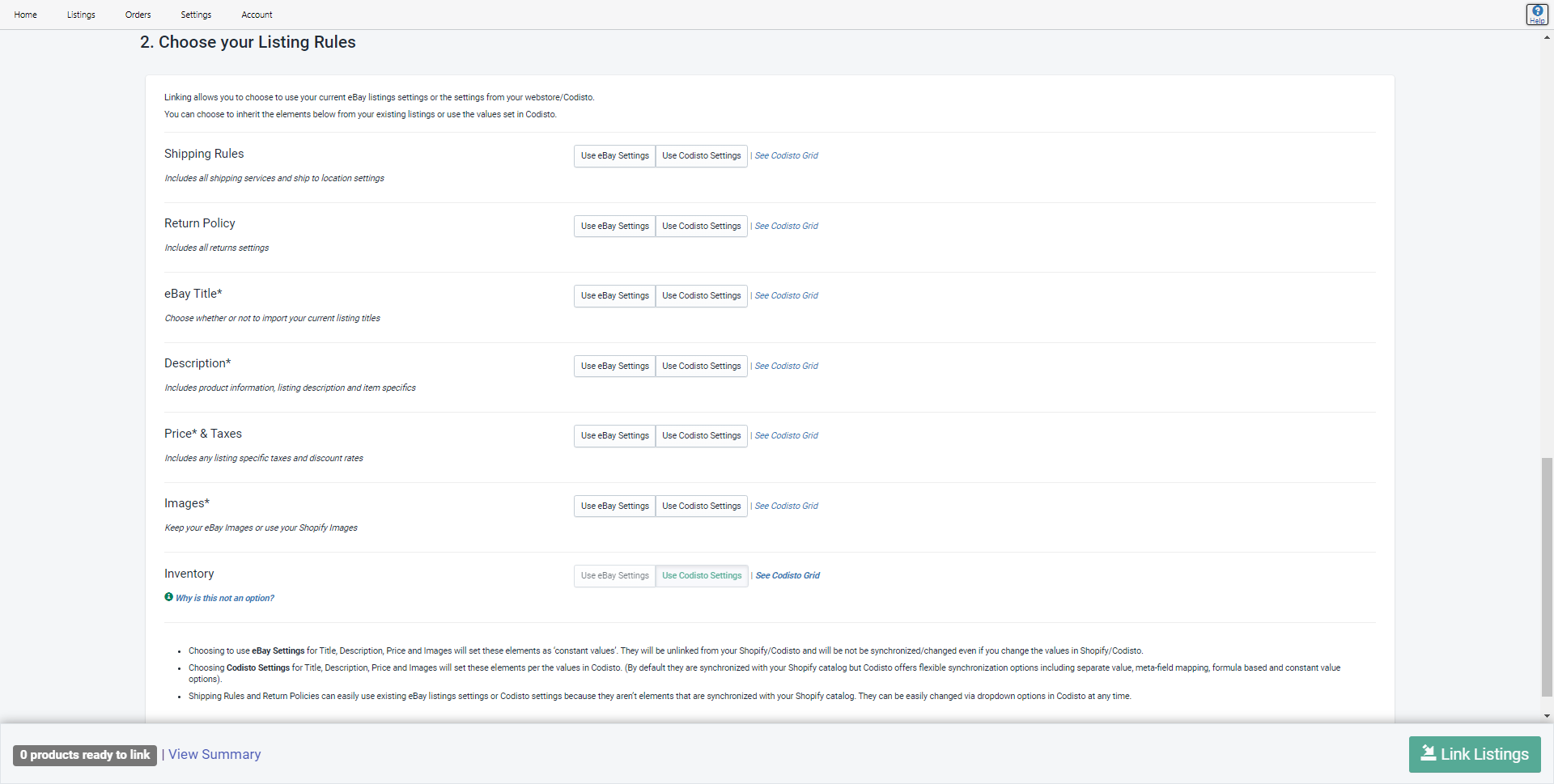 Once approved, Codisto will take over management of the approved listings and immediately begin syncing orders and inventory.
Learn more about linking existing eBay listings.
#4 Uninstall the eBay app from Shopify
From your Shopify admin, click Settings, and then click Apps and Sales channels.
Click the trash can beside the name of the Shopify eBay app that you want to remove.
Click to confirm.
Learn more about removing online sales channels from Shopify help.
Note: You don't need to end or unlink any of your eBay listings on the Shopify eBay app before uninstalling.
For further assistance please reach out to support@codisto.com
Alternatively, if you have installed our app please click our support button at the bottom right-hand side of the page.
<< See all Channel Cloud articles